SAN SEBASTIAN:
San Sebastian is all about the food. It's described as a culinary Mecca. There are 18 michelin star restaurants - (not that we will be going to any!!) Pintxos is the main thing to eat it seems. Some places have plates of pintxos lined up on the bar, some you have to wait to have made. I don't know why they call it pintxos and we call it tapas..
The Pintxos in San Sebastian Don't miss list:
The Pintxo Crawl - the tradition is to go from bar to bar trying one pintxo and drink in each spot then moving on. The idea is to try the house specialty in each one. Don't count on sitting down.
Don't miss Calle De Fermin Calbeton or Calle de 31 de Augusto in the Parte Vieja (old town) preferably before lunch or before dinner. (not quite sure what this is but will find out)
Gros - the other area known for Pintxos. This area is east of the Parte Vieja across Rio Urumea. There are more wine bars here and sophisticated pintxos. Slower pace here and you can linger over the pintxos.
Try the Gilda pintxos - it's base consists of pickled guindilla peppers ( a mild green chilli) anchovies and olives and is served piled on a plate and doused in extra virgin olive oil.
Txakoli de Geteria: Perfect and most traditional accompaniment to many pintxos is a glass of txacoli, a tart local white wine often poured into your glass from a great height. Should be Txakoli Geteria which is produced west of San Sebastian.Goes well with a shrimp brochette.
The other main attraction of San Sebastian are the beaches. There are 3 beaches - Ondaretta, Concha (where we are staying) and Zurriola.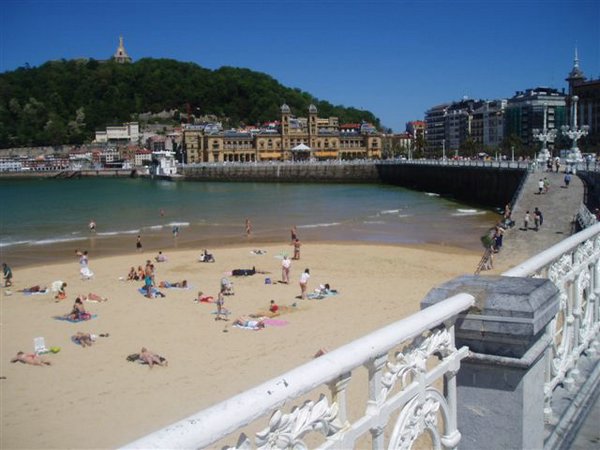 The Paseo Neuvo between the sea and the Urgull mountains has wondeful views. At the top of the Urgull mountains which is a small walled mountain with a small fortified castle (12th century)
Also worth walking along is the Concha Promenade which goes all the way around the Concha Bay to Ondarreta beach, all the way to the 'Piene del Viento' - a famous sculpture by Chillida - in a fabuous setting.
Shopping
: The main commercial streets are La Avenida, la calle Fuenterrabia and el Boulevard. San Sebastian is a very fashionable city something which is reflected in the numerous small boutiques and designer shops. The Bretxa market, next to the Old Part, is the best place to buy local produce you can great fresh fruit and vegetables, great cheeses, honey and much more.
The Cathedral is also worth seeing as well as The Bridge of Maria Christina over the Urumea River. The bridge has 4 ornaments.Close to this bridge is the Plaza de Bilbao, which has a very impressive round fountain that is surrounded by beautiful flowers.
Perfumeria Benegas
- This perfume store is located at Garibay, 12. This is probably the most elegant perfume store in Spain, with the ceiling painted with beautiful designs and crystal chandeliers from
Venice
. The store has been open for the last hundred years.
Looking on Trip advisor for restaurants this one gets great reviews - La Fabrica.